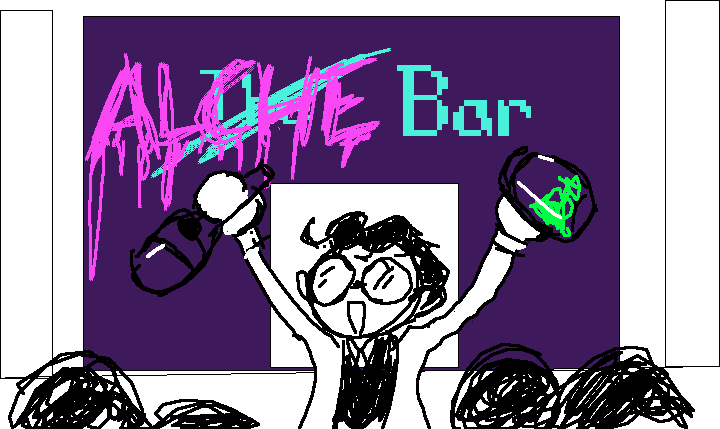 Alche-Bar
A downloadable prototype for Windows
Bartending meets chemical weapon creation in this hectic game of chemistry and experimentation!
You are a bartender struggling to make ends meet. Normal bartending isn't paying the bills, but perhaps manufacturing chemical weapons for clients (no questions asked) might help...
Of course, running two businesses side-by-side has its pitfalls. When a customer enters asking for an "Atomic Fireball", are they expecting a spicy drink or a weapon of mass destruction? Better think fast, time is ticking!
All code, art, music, sound effects, and assets created by the team during the jam!

How to Play
Customers will enter the bar and ask for a combination of flavors.
Click and drag the ingredients on the left to the glass on the bar mix up an appropriate drink to satisfy their tastes! Warning: each ingredient only has a limited number of uses!
Slide the mixed drink to the right to serve it to the customer!
If you mess up, drag the drink to the trash bin!
Coming Soon
Refilling depleted ingredients
Drink/weapon names — which ones are which? Find out by playing!
"Lethality" scores for drinks

Using too many deadly ingredients will kill a customer looking for a drink!
Giving a customer looking for a weapon a harmless drink will result in a rather dissatisfied customer...
About Team Cottonwood
Our Team:
Kaylin Archuleta - Art and Graphic Design
Jesse Forgione - Music and Sound Design
Michael Hu - Programming
Albert Ruff - Programming
Install instructions
1. Download the zip folder with the current version.
2. Extract all files from the folder.
3. Enjoy the game!